Something New
Theatrical Release:
February 3, 2006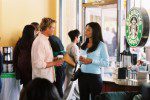 Synopsis
A romantic comedy about finding love where it's least expected, "Something New" marks the feature directorial debut of Sanaa Hamri. If love is an adventure, it's one yet to be embarked upon by Kenya Denise McQueen (Sanaa Lathan). A beautiful L.A. career woman, Kenya works as a senior manager at a prestigious accounting firm, and is on the verge of making partner. But she has yet to find her own partner and a fulfilling personal life.
Dove Review
This romantic comedy tackles the subject of interracial love and is genuinely funny. Kenya McQueen (Sanaa Lathan) is a senior banking manager and is all business-until she meets Brian (Simon Baker), a landscape gardener who not only livens up her backyard but her romantic life. He teaches her there is more to life than work, and they share some laughs along the way. When Kenya goes hysterical after thinking she has a spider in her hair, Brian sends her a copy of "Charlotte's Web," the children's book. The scene near the end when she hurriedly invites him to a cotillion is side-splitting when he can only find a sparkling Spanish musician's shirt to wear over his long t-shirt, along with pants which are too short.
However, they do have a sexual relationship before marriage and the innuendos as well as the language keep this film out from under the umbrella of Dove's family-friendly approval.
Info
Reviewer:
Edwin L. Carpenter