Eight Below
Theatrical Release:
February 17, 2006
DVD Release:
June 20, 2006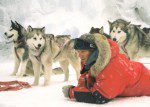 Synopsis
Inspired by a true story, "Eight Below" is an exciting action-adventure about loyalty and the bonds of friendship set in the extreme wilderness of Antarctica. The film tells the story of three members of a scientific expedition: Jerry Shepard (Paul Walker), his best friend Cooper (Jason Biggs), and a rugged American geologist (Bruce Greenwood), who are forced to leave behind their team of beloved sled dogs due to a sudden accident and perilous weather conditions in Antarctica.
During the harsh, Antarctic winter, the dogs must struggle for survival alone in the intense frozen wilderness for over 6 months until the adventurers can mount a rescue mission. The film is inspired by the events of a 1957 Japanese Antarctic Expedition, which served as the basis for the blockbuster Japanese film "Nankyoku Monogatari" ("Antarctica").
Dove Review
The film ends with "Dedicated to the arctic explorers and their dogs that inspired this film." "Eight Below" is certainly a tribute to all of these brave men, women and dogs. It is one of the most uplifting and wonderful films of the year! "Sometimes you just have to take chances for the things you care about" is a lesson learned by both Jerry Shepard and the American geologist.
This film has wonderful scenery and landscapes, brilliant night skies and shooting stars that all combine to make "Eight Below" a fantastic visual experience. You will be chilled to the bone weather wise with temperatures dipping to 50 degrees below zero, but the story will certainly warm your heart. This is a must see and just might be the best family picture of the year.