MOST (Deluxe Edition)
Theatrical Release:
May 7, 2004
DVD Release:
March 1, 2011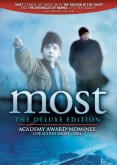 Synopsis
MOST (Czech for "The Bridge") is a visually enthralling, 21st-century parable about a loving father, his young son, and the fateful day when they attempt to head off an impending rail disaster. Hundreds of passengers aboard an oncoming steam train are completely unaware of the danger that looms as they head toward an open drawbridge. A desperate young woman witnesses an act of mercy beyond imagination, changing her life forever—and the lives of all who see this story. Both heart wrenching and glorious, MOST vividly portrays the greatest offering of love, sacrifice, hope, and forgiveness known to man.
The Deluxe Edition includes the following extras which have also been reviewed and approved by The Dove Foundation:
Making of MOST (32-minute feature); Bonus Scenes; Extended Ending; Introduction & Commentary by Luis Palau; Study Guide; Scoring Session (1 minute featurette of Symphony recording session)
Dove Review
This short film is made up of several vignettes which are wrapped around one main theme – no man is an island, and a person's decisions never affect just the individual. The choice between love and duty is vividly portrayed. The father's choice, whether to save his son or the people on a train, inevitably invites the viewers to decide what they would do in a similar situation.
This film has been nominated for several awards and has won several, including the Palm Springs International 2003 award, as well as the Maul Film Festival award for both best short film and the audience favorite. It also picked up the Heartland Film Festival Crystal Heart Award. The acting is superb and your emotions will be stirred by the ending of this film. We are pleased to award "MOST" our Dove Family Approved Seal for audiences over age 12.
Info
Industry Rating:
Not Rated
Reviewer:
Edwin L. Carpenter