Signing Time Volume 4: Family, Feelings and Fun
Theatrical Release:
February 16, 2006
DVD Release:
February 16, 2006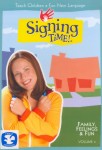 Synopsis
Play, sing and sign along with "Signing Time" while learning American Sign Language! Babies and toddlers can communicate with signs even before they can talk – some a early as nine months. Research shows that children who learn to sign may experience reduced frustration and tantrums, increased bonding with parents, and enhanced speaking, spelling and reading skills. Join Alex, Leah, their frog Hopkins, and "Signing Time's" Rachel Coleman for more signing fun! "Family, Feelings and Fun" teaches ASL signs for family members, feelings, and things outside.
Dove Review
Teaching your young children how to communicate is so exciting. Here is an amazing teaching tool to help in that endeavor. As your baby and /or toddler are learning to speak these videos from "Signing Time" will give them another way to communicate their thoughts and wants. This is just a fantastic teaching tool for both you and your young children. You will teach them two languages at once.
This video shows the signs for words like home, family, brother, love and tree to name just a few. Enjoy Rachel as she sings and signs the words that are taught in this video.
It has been proven that children can learn to sign before they learn to talk. This video is an excellent teaching tool for your little ones to learn sign language. As they are being educated in American Sign Language you will enjoy learning right beside them. Two of my youngest grandchildren are in a preschool that is teaching them sign language because of a playmate in their class. I think that "Signing Time" would be excellent for them to have to help encourage their knowledge of sign language.
Info
Company:
Two Little Hands Productions
Industry Rating:
Not Rated