Madeas Family Reunion
Theatrical Release:
February 24, 2006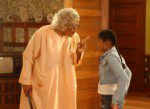 Synopsis
Based upon Tyler Perry's acclaimed stage production, MADEA'S FAMILY REUNION continues the adventures of southern matriarch Madea begun in the hit film DIARY OF A MAD BLACK WOMAN.
An unstoppable force of nature, Madea may have finally taken on more than she can chew. She has just been court ordered to be in charge of NIKKI, a rebellious runaway, her nieces LISA and VANESSA are suffering relationship trouble, and through it all she has to organize her family reunion.
As the reunion approaches, secrets are revealed and tensions rise. Madea must use every tactic in her arsenal to not only keep the peace, but keep her family together.
Dove Review
This film was very funny in parts and very touching in other parts. It was also tragic in many aspects as lives were severely impacted by abuse, both physical and sexual. Madea has her head on straight and gives down-to-earth good advice. What is even more entertaining is that the advice is often as funny as it is profound.
The forgiveness, redemption and sense of family that Tyler Perry conveys is very rare and touching these days. What is even more refreshing is the deep faith in God that many characters in the film have. These people are shown as decent, loving and caring individuals that try to do the right thing. There is one scene where Cicely Tyson's character gives a stirring speech to her kin at the Family Reunion. It is one of the most moving and true monologs that I have heard in a long time.
It is ironic that Dove cannot approve "Madea's Family Reunion" because the sense of family is so strong throughout the film. One reason we can't award it the Dove Seal is the implied sexual relationship between two of the main characters in the film. Another is that a few of the sub themes in the film are too sensitive for children.