Eyecandy: Can You See It?
DVD Release:
April 1, 2006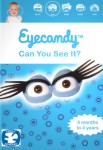 Synopsis
If the eyes are the window to our world, then the first blurry images your baby sees are critical to forming the foundation for how they experience the world though their sense of sight. In the first twelve months as your child's vision sharpens, so does their hunger to learn about their surroundings. "Eyecandy: Can You See It?" is an exploration of sight that brings the world into focus. From rainbows to roosters, and a fun game of peek-a-boo, we open your baby's eyes to the fantastic sense of "sight."
Bruce Brain along with Ivy Eyes lead the silly sense part puppets through this exciting visual world. More innovative animations capture the ideas behind how we see, and our energetic cast of kids show us how they experiment with their world; all set against captivating "kidified" classical music. This is the first follow-up title to the multi-award winning, "Braincandy: My 5 Senses," and we hope you and your children will love "Eyecandy: Can you Se It?"
Dove Review
The inspirational people at Braincandy have another terrific video to help teach children, this one about their eyes and the sense of sight. Using colorful puppets, small children, great graphics and wonderful music, your child will be captivated watching this DVD.