Fingercandy: Can You Touch It?
DVD Release:
June 1, 2006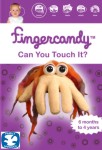 Synopsis
Who can resist the chance to hold a new born baby? From the moment you feel their soft skin against yours, there is an instant bond that only "touching" experiences can bring. Young children continue to thrive on touch adventures and wonder at the feeling of a squishy bowl of black beans, a tender hug or a wriggly worm. This early nurturing forms the basis to support your child's social and emotional development.
"Fingercandy: Can You Touch It?" investigates the world through tactile explorations that will leave your child tickled! Bruce Brain and Harry Head lead the silly sense puppet crew on a journey through the sense of touch. More inventive animations demonstrate how we feel, and our energetic cast of kids show us how they experiment with their world. The whimsical adventure is complimented by a friendly reggae beat that will get your child up and moving. From the top of their heads to the tips of their toes, touch plays a very special role in the lives of young children.
Dove Review
Puppets named Bruce Brain and Harry Hand take your child on a sensory adventure in this DVD. As children grow they discover how things feel to the touch. "Fingercandy" uses puppets and children to demonstrate how different items feel. This is another fantastic educational DVD from Braincandy that your children will enjoy.