Transamerica
Theatrical Release:
December 23, 2005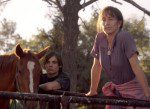 Synopsis
Bree, a pre-operative, male-to-female transsexual, holds down two jobs and saves every penny so that she can pay for one last operation that will make her a woman at last. One day, however, she receives a strange phone call. It appears that on the other side is Toby, apparently her son, who must be the product of a somewhat clumsy sexual encounter years ago when she was a man. He stays in New York, incarcerated. Bree flies from Los Angeles to New York in order to get the boy out of jail. At first she is reluctant to do so, but her therapist convinces her to face up to her past. The boy is handed over to her without a word of explanation and Toby believes the woman to be some Christian missionary determined to convert reprobates to Jesus; Bree sees no reason to clear up the misunderstanding. However, she finds out that the boy just wants to escape from her and hitchhike to Los Angeles. She persuades him to accompany her back to the west coast–secretly planning to leave him at his stepfather's along the way. Toby is happy to take her up on her offer.
Dove Review
Let me say right up front that this film can not be approved as family-friendly. It not only contains inappropriate material for children, many adults will be offended by the subject matter and the frankness in which it is portrayed.
You can't watch this film and not feel some sympathy for its main character. We meet Bree just as he/she is about to have sexual reassignment surgery which will finally make her a woman. But her transformation is put on hold when she learns of a son she "fathered" in a one-time encounter. What follows is a father/son road trip movie like no other. Bree is overly feminine and uptight while her son Toby is a degenerate teenager with an abusive past. There are many comical moments along this journey, most notably when the two make a stop at Bree's parents' home. However, the comedy is overshadowed by disturbing scenes of prostitution and dysfunctional family moments. I felt the shock-value nudity used by the filmmaker was unnecessary and made the viewer want to turn away as if intruding.
The acting and production values in the film are very good and the storyline completes its arc with a satisfactory ending. But, unless you have an aching need to learn more about the transgendered community, I suggest you skip this disturbing film.
Info
Company:
The Weinstein Company LLC