When Zachary Beaver Came to Town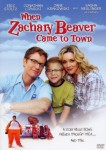 Synopsis
Based on the National Book Award winning novel by Kimberly Willis Holt, When Zachary Beaver Came to Town is a poignant slice-of-life story that is timeless in its appeal. In the spirit of Stand by Me, this is a coming-of-age story for a new generation. It is the kind of picture that kids can claim as theirs and say, "Somebody does understand us." At the same time, it has the potential to cross over and engage an older audience as well.
On one hot summer's evening, a tiny trailer decorated with Christmas lights rolls into Granger, Texas, with Zachary Beaver (Sasha Neulinger) as his own one-man sideshow with friend and business partner Paulie Rankin as his ringleader. Naturally, the whole town gathers around to take a look, including Toby (Jonathan Lipnicki) and Cal (Cody Linley), who get in line to see "the fattest boy in the world."
Out of this unlikely beginning, a friendship develops among the three boys, a friendship that will help carry them through what will be a life-changing summer for all of them. In befriending Zachary, Toby and Cal learn a lot of life's lessons—some sad, some uplifting, some funny—but all a part of growing up. They will certainly never forget Zachary Beaver or the summer when he came to town.
Dove Review
In every child's life there is that time when he/she thinks no one understands. This story takes the viewer on one boy's summer of changes to his life. This could be a enjoyable heartwarming story but it leads in many different directions. There is Zachary, a very obese boy, and Cal, who's always having fun and has a brother in the service, and then there is Toby, who has a crush on a girl and also has some family problems.Together these characters help make an interesting story.
We cannot approve this movie due to some offensive language. Some language was spoken by Toby who was reprimanded by his father.
Info
Company:
Echo Bridge Home Entertainment
Writer:
Novel by Kimberly Willis Holt, Screen by John Schultz