Dave Chappelles Block Party
Theatrical Release:
March 3, 2006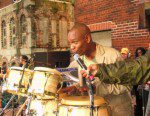 Synopsis
A genuine crowd-pleaser, Dave Chappelle's Block Party spotlights comedy superstar Dave Chappelle as he presents a Brooklyn neighborhood with its very own once-in-a-lifetime free block party. The unprecedented combination of comedy and music was shot on location. In addition to Mr. Chappelle performing all-new material, the stellar roster of artists includes Kanye West, Mos Def, Talib Kweli, Common, Dead Prez, Erykah Badu, Jill Scott, the Roots, Cody ChesnuTT, Big Daddy Kane, and – reunited for their first performance in over seven years – the Fugees.
Dove Review
Although humorous at times, this film was not a traditional comedy-it was a documentary. Dave Chappelle and his camera crew trotted from Ohio to New York collecting "regular people" to attend his free Block Party held on September 24, 2004. The best part of this film was not the few comedy routines or the star-studded music, but Dave's easy going interview style. He spoke with everyone from college marching band students to derelicts living in the slums of Brooklyn.
The concert featured many high profile hip-hop artists who agreed to perform at Dave's Block Party because "it's about more than just money." The concert, which went on in spite of rain, had the feel of a Band Aid or Woodstock show. Eventhough I am not a huge fan of hip-hop music, I did enjoy the obviously talented and passionate musicians. With that genre, however, comes a lot of profanity. I find it confusing that the artists insist on vulgar language even when singing a song entitled "Jesus Walk With Me." The songs were so strewn with obsentities, that I'm certain I did not catch all of them.
Due to excessive language, this film cannot be approved by Dove.