Mommy Teach Me Spanish Volume 2
DVD Release:
February 1, 2006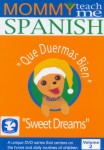 Synopsis
Hola! This unique video series centers on the home and daily routines of babies and children through age 9. This video does provide translation and is designed for those whose first language is English, but are looking for an easy way to give their children a basic introduce to Spanish that simply ties into everyday lives of parents and child. Meet Fuerte our adorable Chihuahua and his amigo Fuego – a chili pepper; also starring the Fiesta Friends Kids, bright graphics, fun musical scenes, and unique toys. This DVD centers on the bedtime routine, offers popular nursery rhymes in Spanish, numbers from 1-20, items in the bedroom, toys, and bedtime phrases and simple commands to start using today!
Dove Review
It is a fact that children adapt to learning language at a very young age. I know of a man that taught his children both English and Spanish when they were very young and now they are fluent in both and can switch between the two languages with no problem. This DVD will help you with your endeavor to teach Spanish to your youngsters and is a fantastic teaching tool.
Official Website: www.fiestafriends.com
Info
Company:
Fiesta Friends, LLC