Mustard Pancakes: See How the Garden Grows
DVD Release:
December 6, 2005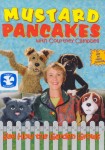 Synopsis
"Mustard Pancakes" is a brand-new children's series for three to six-year-olds, featuring the lovable and funny Courtney Campbell. Campbell can best be described as a cross between Mr. Rogers and Shari Lewis. A family of fun-loving puppets joins Campbell, including three dogs – Oogleberry Ink Dog, Tiny Tina Ten Toes and Mo, and the lone cat, Mr. D. Produced by Mustard Pancakes Productions Inc. in association with Oregon Public Broadcasting and distributed by American Public Television (APT), "Mustard Pancakes" came to public television stations in July 2005.
Dove Review
Courtney Campbell hosts this delightful children's program, designed specifically for ages three to six. She sings and helps her friends, three dogs named Oogleberry Ink Dog, Tiny Tina Ten Toes, and Mo. They in turn help her. In one episode on the DVD, Courtney begins preparing a meal for her brother, due to visit later that day. She is excited, only to receive a phone call that he won't be coming at all. She becomes depressed but the dogs finish preparing the meal for her and let her know how much they think of her. The humorous moments include Oogleberry getting a bath after he is sprayed by a skunk. Another story deals with a trip to the vet for Tiny Tina. Kids will love the episodes which include the pilot that appeared on public television. This program recently won the Parents Choice Gold Award in the preschool category.
Read an Interview with Courtney Campbell
Info
Company:
Mustard Pancakes Productions
Director:
Trevor Evans and Jason Furukawa
Reviewer:
Edwin L. Carpenter