Heros Love, A: The Daniel Unger Story
DVD Release:
November 11, 2005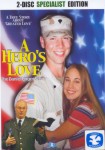 Synopsis
"A Hero's Love" is the inspiring story of how a teenage boy from Exeter, California sacrificed his life to defend our freedom from the terrorist attacks of 9/11. Having served in Operation Iragi Freedom, Army Specialist Daniel Paul Unger will always be remembered as the hero that saved two men from an Iraqi mortar attack, but it is his life testimony of love and integrity that has impacted thousands of men and women across the country. "A Hero's Love" traces the impact that Daniel had on friends and family as their beloved son, brother, boyfriend and fellow soldier, and shares the driving force behind why Daniel's father Marc joined the California State Military Reserve as a Chaplin(1LT) only six months after Daniel's untimely death. As an Army Specialist, 4th Degree Black Belt, licensed minister, and gifted student and athlete, Daniel Unger accomplished more on Earth in just 19 years than most people would in their entire lifetime.
Dove Review
Through family members, friends and fellow soldiers this documentary tells of the great life of Daniel Unger. This young man lived his life and held to his beliefs no matter what he faced. Daniel's love of God and country are shown with great devotion from everyone that entered his life. His testimony and life will live on to all who view this film.
This amazing story of one young man's short life here on earth will stay in the viewer's thoughts long after the film is over. As mentioned in the documentary, it is not the number of years of the life, but the life in the number of years. Due to the emotional content of this film Dove gives it a 12+ approval.
Info
Company:
Family First Films