Larry the Cable Guy: Health Inspector
Theatrical Release:
March 24, 2006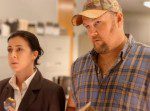 Synopsis
Irreverent as ever, Larry plays a big city health inspector who's happy with his usual beat of greasy spoon diners and low-rent ethnic restaurants. But his easygoing life is turned upside-down when he's saddled with a straight-arrow rookie partner (Iris Bahr) and assigned the biggest case of his career: investigating an outbreak of mysterious food poisonings at the city's swankiest restaurants. Infuriating restaurateurs with his bad manners, Larry still manages to charm a sweet, shy waitress (Megyn Price) into a budding romance. But when his unorthodox methods cost him his job, Larry has to go undercover to bring the conspirators to justice and 'Git-R-Done!'
Dove Review
I suppose if I would have taken my big old truck to this movie, along with my "Proud to be a Redneck" bumper sticker on the back, I might have gotten more into the spirit of this film. As it was, an hour and a half felt like three hours. Don't misunderstand me-I have nothing against rednecks. I just don't like gross humor, or the lack of humor when it is supposed to be funny. In this movie people visit the restroom a lot and they vomit a lot. They sure tried hard in this film to be funny, but they didn't make it. The prolific number of profanities and crude language, along with the strong sexual innuendo, prevents this one from being Dove approved.
Info
Writer:
Jonathan Bernstein and James Greer
Reviewer:
Edwin L. Carpenter