Stay Alive
Theatrical Release:
March 24, 2006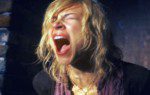 Synopsis
After the mysterious brutal death of an old friend, a group of teenagers find themselves in possession of Stay Alive, a next generation horror survival videogame based on the spine-chilling true story of a 17th century noblewoman known as "The Blood Countess." The gamers don't know anything about the game other than they're not supposed to have it…and they're dying to play it. Not able to resist temptation, the group begins to play the grisly game and soon a chilling connection is made-they are each being murdered one-by-one in the same method as the character they played in the game. As the line between the game world and the real world disappears, the group must find a way to defeat the vicious and merciless Blood Countess, all the while trying to…STAY ALIVE.
Dove Review
This movies goal, like the video game it depicts is to stay alive. In order to achieve this objective, the players (characters) must battle against dead children and the spirit of the woman who murdered them. While the concept of a videogame coming to life was compelling, unfortunately the dialog and graphic killings weren't. In an age when video games become more and more violent, this movie may serve as a warning to some parents who allow their impressionable children to play such entertainment.
Due to teen sexuality, horrific language and the gruesome murders, this film did not win our approval.
Info
Company:
Buena Vista Home Video
Writer:
William Brent Bell and Matthew Peterman