ATL
Theatrical Release:
March 31, 2006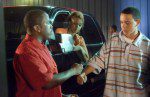 Synopsis
17-year-old Rashad (Tip Harris) was forced to become the man of the house earlier than most. Since the death of his parents, he's carried the responsibility for himself and his little brother Ant (Evan Ross) squarely on his shoulders. While he does his best to keep Ant in school and out of the trouble that's always lurking just around the corner in their South Atlanta neighborhood, sometimes it seems like a losing battle. Rashad can't be everywhere at once, and Ant is dangerously close to falling under the spell of a blinged-out local dealer who promises fast money and the respect Ant dreams of getting.
A talented artist, Rashad doesn't see any future for himself beyond assisting his Uncle George (Mykelti Williamson) as a janitor after school. The thing is, "assisting" George actually means doing all the work and seeing none of the cash. Lately it seems the only bright spot in Rashad's life is New-New (Lauren London), who sees something special in him.
Dove Review
Remember all the issues you had to face when you were coming of age? Well this story shows how Rashad faces many issues in his young life that have stopped him from seeing his true talents. The overriding theme of this film concentrates on the differences between social classes as they relate to the pressures of fitting in or doing what's right, young love and friendships. The characters pull this off with very convincing performances; unfortunately, this movie is not considered to be wholesome entertainment due to a great deal of offensive language and sexual situations.
Info
Company:
Warner Bros. Publications