Mustard Pancakes (CD)
DVD Release:
December 6, 2005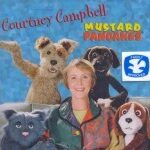 Synopsis
Courtney Campbell is a singer, songwriter, musician, author and master storyteller. Courtney has performed for children all over the world and can now be seen on television in the new hit children's show "Mustard Pancakes."
Dove Review
This CD features the soothing voice of Courtney Campbell. However, listeners shouldn't let the word "soothing" fool them. This lady can sing and she has a wide range of vocals and styles on this CD for children. Her songs tell stories and are sure to delight young listeners. Her show and this CD are geared mainly toward ages three to six but older children should enjoy these songs about characters, chocolate cake, mustard pancakes, and other such themes. Her songs are upbeat and "Jumpin' Jake's Song" is jazzy. In fact, parents might very well find themselves tapping their feet and singing along with this delightful CD. Campbell used to open for John Denver, and has shared billing with Lyle Lovett and Jackson Browne. Her talent shines in this CD.
Info
Company:
Mustard Pancakes Productions
Industry Rating:
Not Rated
Reviewer:
Edwin L. Carpenter