The Wild
Theatrical Release:
April 14, 2006
DVD Release:
September 12, 2006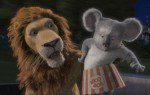 Synopsis
In this wild and outrageous computer-animated comedy-adventure, an odd assortment of animals from the New York Zoo, including a lion, a giraffe, an anaconda, a koala, and a squirrel, discover what a jungle the city can be when one of their own is mistakenly shipped to the wild and they embark on a dangerous mission to rescue him. The film boasts an impressive vocal ensemble – Kiefer Sutherland (as the respected lion leader, Samson); Greg Cipes (as Samson's son, Ryan); Jim Belushi (as Benny, the street savvy squirrel and Samson's best friend); Janeane Garofalo (as a quick-witted giraffe); Richard Kind (as a dim-witted anaconda); William Shatner (as a wicked wildebeest); and Eddie Izzard (as Nigel, an acerbic koala) – along with cutting edge animation, and a story filled with hilarious situations. Director Steve "Spaz" Williams and producer Clint Goldman helped to revolutionize CG character animation during their long association with ILM.
Dove Review
This movie has all the elements to make a great family film, so why is it just okay? It has great animation, cute and well voiced characters, and an interesting if somewhat overused storyline. I'm a great fan of animated films and I've watched many of them over and over with my kids. I'll never forget the wonder of entering a different world seen through the eyes of toys in "Toy Story." And my son spent many months running around shouting, "To infinity and beyond!" "The Wild" does not offer anything new or lasting and it definitely doesn't stand up to the collection of Disney classics.
That being said, this film is appropriate for family viewing. There is very little of the sexual innuendo and bathroom humor that have become common in this genre. Several of the characters are appealing, including the zoo's star sharp-witted koala bear who speaks with a British drawl. An unusual love story develops between a wily squirrel and a giraffe, including two kissing scenes that may draw "eeews" from a young crowd. "The Wild" is however set in "the wild," so expect a few scary scenes between animals and their prey. There are also two scenes between father and son that may be disturbing to young children. First, the father tries unsuccessfully to save his son from being taken away in a crate. Also, the father falls off a cliff and appears dead. There is a battle scene near the end as the animals try and save themselves from becoming sacrificed in the fire. No blood is shed, although it is implied that a wildebeest is crushed under a boulder.
If you are looking for a safe film to entertain your kids or grandkids, this one will do the job. But, don't expect "The Wild" to offer many wild fits of laughter.
Info
Company:
The Weinstein Company LLC
Writer:
Mark Gibson and Ed Decter