Thank You for Smoking
Theatrical Release:
April 14, 2006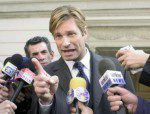 Synopsis
Nick Naylor (Aaron Eckhart), chief spokesman for Big Tobacco, makes his living defending the rights of smokers and cigarette makers in today's neo-puritanical culture. Confronted by health zealots out to ban tobacco and an opportunistic senator (William H. Macy) who wants to put poison labels on cigarette packs, Nick goes on a PR offensive, spinning away the dangers of cigarettes on TV talk shows and enlisting a Hollywood super-agent (Rob Lowe) to promote smoking in movies. Nick's newfound notoriety attracts the attention of both tobacco's head honcho (Robert Duvall) and an investigative reporter for an influential Washington daily (Katie Holmes). Nick says he is just doing what it takes to pay the mortgage, but he begins to think about how his work makes him look in the eyes of his young son Joey (Cameron Bright).
Based on the novel by Christopher Buckley.
Dove Review
This is one of those films which does not come close to being wholesome family entertainment. It is a satire about a lobbyist who believes people have the right to do whatever they wish, even killing themselves with cigarettes. He is against stronger labeling on cigarette packages and his talent is in debating other people, committees, and even U.S. Senators. The film includes some talented actors such as Robert Duvall and William H. Macy. But it is a dud for the family because of the excessive sexual innuendos, the language and the serious nature of the subject matter. The main character, Nick Naylor, at one point tells a Senate Committee meeting that if his son asked for a pack of cigarettes at age eighteen, he would buy them for him. This is perhaps a freedom of American parents, but it does not teach kids nor parents for that matter good moral decision making. As it's a good idea to skip cigarette smoking, it's a good idea to skip this movie.
Content Description
Language:
F-21; A-7; S-5; GD-1; Bi*ch-1; Bas*ard-1; Chri*t's sake-1; SOB-1; J-1; H-3; OMG-1; Slang for female genitalia-1; Lord (vain way)-1; Slang for having sex-1; slang for male genitalia-1; ti*s-6.
Info
Company:
Fox Searchlight Pictures
Reviewer:
Edwin L. Carpenter