Danger Rangers: Medicine Mix Up
Theatrical Release:
January 28, 2006
DVD Release:
January 28, 2006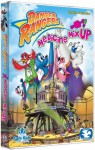 Synopsis
Why are kids all over digging in purses and cabinets for candy to eat, which ends up being medicine?
Drinking cough syrup they think is grape juice? Candy all over the world is being contaminated with a smell that makes it ….shall we say, tres funky? Henri Ennui has invented Le Rancinator to contaminate the smell of not just candy, but fruits, vegetables, meats and cheese! Find out how our team of superheroes foil Henri's smelly scheme as they show children how to play it safe when it comes to medicine!
Dove Review
Parents hear so many stories in which young children are rushed to the hospital because they found some medication and ate it, thinking it was candy. Danger Rangers are on patrol once again, this time to educate and entertain your children with the rules and safety tips regarding medication.
These videos are an incredible tool for educating young children about safety. They will enjoy the music that enforces the rules and logical tips which they learn in this adventure. Another fantastic "Danger Rangers" adventure!
Info
Company:
Educational Adventures