End Times: How Close are We?
DVD Release:
September 1, 2006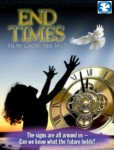 Synopsis
Nearly 30% of the Bible is prophecy. Today the majority of these predictions have come to pass. Those that remain to be fulfilled foretell of the End Times—and if Biblical scholars are right, they are about to come true. But what does modern science have to say about all this? Could it be that scientists of all stripes have come to the same conclusion as the ancient prophets—are the earth's days numbered? Are the "signs of the times" all around us? If so, what are they? And where will this road lead us? And most importantly, will we be ready when the prophetic clock stops ticking?
The viewer should be prepared for a fascinating look at a topic that permeates God's Word and will undoubtedly affect the lives of every person on earth… perhaps sooner than we think.
Dove Review
This DVD takes a look at the Biblical version of the end of the world, and offers in-depth comparisons of what is stated in the Bible and what is happening around the world. It will make you think about scientific facts and prophecies. This will be a great discussion tool to use in the religious community.
Info
Company:
Grizzly Adams Prod., Inc.