The Sentinel
Theatrical Release:
April 21, 2006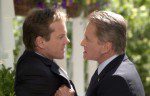 Synopsis
A suspense film based on the novel by former Secret Service agent Gerald Petievich. Special Agent Pete Garrison (Douglas) suspects that the neo-Nazi Aryan Disciples have positioned one of their own in the White House, but his investigation is cut short by a blackmailer who knows of his affair with the First Lady Sarah Ballentine (Basinger) and tries to frame him for murder. Though he is officially relieved of his duties, Garrison doesn't stop trying to prove his innocence and save the president's life. He comes into a direct confrontation with his protégé, hardheaded Agent Breckinridge (Sutherland).
Dove Review
Michael Douglas, Kiefer Sutherland and Kim Basinger all perform very well together in this action/suspense/drama. "The Sentinel" does forecast some of its plot but the story remains fairly strong to the end. The situations are believable and it is interesting to see some of the inner workings of the Secret Service.
While the director kept the violence to a minimum and it all remained contextual and not gratuitous, the same cannot be said about the language. This film would have easily garnered a PG rating from the MPAA if the language had been toned down. Due to the extremely unnecessary language, Dove cannot award our seal to this picture.
Info
Company:
20th Century Fox