Mee-Shee the Water Giant
DVD Release:
July 25, 2006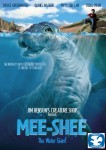 Synopsis
Mac, a fun loving nine-year old, will have the adventure of a lifetime when he uncovers the world's biggest secret: Mee-Shee, a lovable water giant. Together, Mac and his enormous new friend will have to outsmart a team of evil guys who threaten to take Mee-Shee away forever. With incredible monsters and amazing special special effects from Academy Award winning Jim Henson's Creature Shop, "Mee-Shee the Water Giant" will swim into the hearts of your whole family!
Dove Review
This wonderful adventure takes a boy and his dad to a place that will change their lives forever. They travel to a small Canadian town to look for a special oil drill in a lake, where an Indian tale tells of their version of the Loch Ness Monster.
This is a very astounding movie that will entertain the entire family. The fabulous creation of the monster and effects are so believable, that it will have you on the edge of your seat at times. There are a few scary scenes that might scare smaller children, but overall it is just a fantastic adventure movie.
Info
Industry Rating:
Not Rated