United 93
Theatrical Release:
April 28, 2006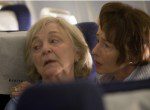 Synopsis
The story of the passengers and crew, their families on the ground and the flight controllers who watched in dawning horror as United Airlines Flight 93 became the fourth hijacked plane on the day of the worst terrorist attacks on American soil: September 11, 2001.
United 93 recreates the doomed trip in actual time, from takeoff to hijacking to the realization by those onboard that their plane was part of a coordinated attack unfolding on the ground beneath them. The film attempts to understand the abject fear and courageous decisions of those who — over the course of just 90 minutes — transformed from a random assembly of disconnected strangers into bonded allies who confronted an unthinkable situation.
Dove Review
Before viewing "United 93" I was hopeful that this "tribute" to those brave passengers and crew on that flight would do them justice. Unfortunately it did not and on so many levels. The characters were presented in a one dimensional way. The hijackers on the other hand were presented more in depth and I feel that is a terrible injustice to those Americans who died that day.
The other significant problem was that of the editing and camera work. Very few scenes were over 2 or three seconds with cutting between shots in rapid succession. The camera seemed to be held by a six year old running around in jerky, fast pans and weird camera angles all of which literally made me dizzy and sick to my stomach.
"United 93" is not a good tribute to anyone or any organization involved. I would have much rather seen a documentary about the events and how they unfolded on that flight with in-depth interviews with family members of the passengers that would have given them and the film more meaning and worthiness.
I really feel bad for the families of the passengers and crew that have to endure this unfulfilling, shallow attempt to pay tribute. I expected much better for such a tragic event in American history.
Graphic violence and an abundance of obscene and profane language prevent Dove from awarding "United 93" with the Dove Seal.
Info
Company:
Universal Pictures