The Way Back Home
DVD Release:
March 12, 2008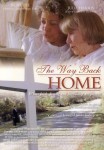 Synopsis
Spencer Krane (Michael H. King) arrives in rural Florida to check on his grandmother (Julie Harris) who has suffered a stroke. What begins as a brief visit becomes so much more. It becomes a journey of consequence. It is his time spent with his grandmother and her best friend (Ruby Dee) that makes him realize if he wants a future, he must come to terms with the past.
Dove Review
Some of us have moved away from the place where we grew up, only to return at a later date due to one reason or another. On that return sometimes we take a good look at our life and feelings inside. This is just that kind of warm story about one man's return, taking us on a trip though Spencer's recent problems along with those around him. It captures the in-depth feelings and faith of all the characters being portrayed. This is a film about spiritual searching and also about death. A few characters try to find the strength to go on after suffering the loss of loved ones. Grief is a theme in the film too.
Due to a flash-back sequence in this film involving suicide, Dove approves this film for ages twelve and over. We recommend you take this spiritual journey as it is a trip well worth traveling and the film is nicely written with believable characters who love one another.
Info
Company:
Bridgestone Multimedia Group