TippyToeToons Presents: Princess
DVD Release:
April 1, 2006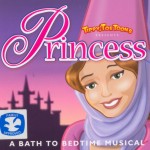 Synopsis
We're proud to announce this CD in our Bath to Bedtime musical series: "Princess." This CD is themed with appropriate character voices that take a child through their nightly routine. There's an opening song to "announce" it's time for a bath and then a song to get kids in the tub, a shampooing song, a washing song, a bath play time song, a pajamas song, a teeth brushing song, a song that has the child pick out a book to read and ends with a lullaby.
This CD in the Bath to Bedtime Musical series creates a fun, easy way to move a child through a bath in about 10 minutes. The "Princess" CD stars your sweet Princess along with Sir Washalot and Lady Elizabath. As members of your child's royal court, they know the proper way to prepare a Princess for the pinnacle of perfect preening…in other words, they know baths! Behold this whimsical kingdom. There's Sydney Scrubbins, the finest washer in the business, the Merry Maidens, the Town Cryer and more! From the bath, through putting on pajamas, teeth brushing, picking out a book, to a lullaby, the TippyToeToons® "Princess" CD takes your child on a musical journey from bath time to bedtime!
Dove Review
This delightful CD will help you get your little princess into the bath and ready for bedtime. It will make bath time fun and keep them laughing as it encourages your little tikes to shampoo, brush their teeth and get ready for bed. Using a variety of cute characters that are incredibly funny with great wisdom for the bath and bed time, you and your little ones will find this special time together fantastically enjoyable.
Info
Industry Rating:
Not Rated