Frozen Stupid
Theatrical Release:
December 1, 2006
DVD Release:
December 1, 2006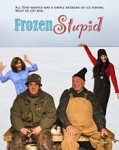 Synopsis
It's a Saturday, on a snowy midwestern winter landscape, and Tony Norgard (Joey Albright; "Escanaba in da Moonlight," "Barn Red") really wants to go ice fishing. But he is pressured to attend his mother-in-law's birthday party on the same day. To solve the dilemma, Tony feigns being ill and stays in bed. While his little white lie allows him the chance for a secret outing, it comes with a heavy price. Through the day, misfortune seems to meet him at every turn. This comedy tells the tale of a cantankerous father and his bumbling but well-meaning son who share a joyous obsession for the age-old art of ice fishing.
Dove Review
There are relational struggles between various members of any family – fathers and sons, in-laws, husbands and wives, etc. "Frozen Stupid" tackles several of these issues with more than a spoon full of sugar. Humor is the ingredient that helps to deliver the messages that dishonesty and trickery are not the best ways to resolve conflicts or avoid responsibilities in a family. In fact, this fun-filled story makes it clear that the greater the deception, the greater the consequences. The consequences of misbehavior are both painful and funny. In the end, all of the family members get right with each other with proper doses of compromise, repentance and forgiveness…and laughs.
There is some rough language during conversations between the father and son that should remain in the ice shanty. Given the cold setting, "suds" are the antifreeze of choice. This aptly-named comedy starts off slowly, but soon finds its pace.
Info
Company:
Brauer Productions