The Natural Art of Darren and Linda Combs: Volume 1
DVD Release:
June 13, 2006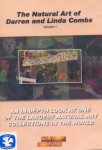 Synopsis
Natural Art is just that, natural, unaltered and unfabricated. It's slowing down to appreciate the art that God and nature have created. Set to instrumental music Justice Pictures explores the nearly thousand piece Natural Art Collection of Darren and Linda Combs.
Dove Review
This is a fantastic video for anyone who enjoys art, especially art made with natural materials. Using rocks, tree stumps, shells and the like, the artists produce swans, butterflies, a cake, snakes, alligators, birds, ducks, seals, mushrooms, and many other creatures and creations. The soundtrack adds to the experience, soft music which enhances and does not draw away from the art. One of the nice features of this DVD is that each shot lingers for a moment on each piece of art, rather than dwelling on it for lengthy periods. This DVD is fascinating to watch and it should be noted that there are a few nude male models of art which are shown from the front and we therefore recommend this DVD for ages twelve and above. This is an enjoyable experience and a good way to spend thirty minutes.
Info
Company:
Justice Pictures
Industry Rating:
Not Rated
Reviewer:
Edwin L. Carpenter