The Break-Up
Theatrical Release:
June 2, 2006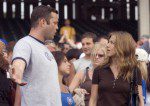 Synopsis
Vince Vaughn and Jennifer Aniston star in "The Break-Up," which starts where most romantic comedies end: after boy and girl have met, fallen in love, moved in to start their happily-ever-after… and right when they wind up driving each other crazy. Pushed to the breaking-up point after their latest "why can't you do this one little thing for me?" argument, art dealer Brooke (Aniston) calls it quits with her boyfriend, Gary (Vaughn), who hosts bus tours of Chicago. What follows is a series of remedies, war tactics, overtures and underminings suggested by the former couple's friends, confidantes and the occasional total stranger. When neither ex is willing to move out of the condo they used to share, the only solution is to continue living as hostile roommates until somebody caves. But somewhere between protesting the pool table in the living room, the dirty clothes stacked in the kitchen cupboards and the sports played at sleep-killing volume in the middle of night, Brooke begins to realize that what she may be really fighting for isn't so much the place but the person.
Dove Review
Vince Vaughn and Jennifer Aniston create wonderfully believable performances in "The Break-Up". They make you laugh and they make you sad because of the situations they build from not really listening to each other. This film has moments that I believe everyone can relate to when thinking about their past or current relationships.
The film misses the family audience by miles however. In the first place they are an unmarried couple living together. Next is the foul language and sexual innuendo followed closely by some nudity. In fact, I'm sure I missed many obscene words because they fly by you faster than a Roger Clemens fast ball. Families will have to break up their love affair with going to the movies and throw this crass film out of their lives.
Content Description
Nudity:
Female naked, shown from behind. Strip poker played and afterwards people dance naked, with mainly backside shots shown; cleavage shown throughout film.
Info
Company:
Universal Pictures
Writer:
Jeremy Garelick and Jay Lavender