Keeping Up with the Steins
Theatrical Release:
June 2, 2006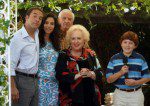 Synopsis
Like the young Indian braves of long ago, Benjamin Fiedler is about to undergo an initiation rite that will take him from boy to man. But rather than face the perils of the hunt, he must endure something far worse–a Bar Mitzvah in Brentwood, California. It's not enough that Benjamin must stand in front of a Temple full of strangers chanting Hebrew, a language he doesn't understand. He must also cope with the efforts of his parents, Adam and Joanne, to splurge on a party-to-end-all-parties, a mega-bash where the Bar is more important that the Mitzvah and a Jewish Star means Neil Diamond. Above all, the Fiedlers must surpass the "Titanic"-themed Bar Mitzvah given by Adam's rival agent, Annie Stein. With his circus-sized celebration, Annie has thrown down the gauntlet. For the highly competitive Adam, the war is on. But when Adam's father Irwin, now a gray-haired hippie, and his spacey younger girlfriend arrive in their broken down camper, the Fiedler's plans are thrown into disarray. Every family has their own dysfunction and neuroses and the Fiedlers are certainly no exception. Despite this, they ultimately realize that family is the most precious bond that can't be broken (but it can be bent out of shape at times).
Dove Review
A plus for this film is that it does have a realistic plot in which a young boy who is having a Bar Mitzvah tries to distinguish what it is he truly wants in life. His Dad, Adam Fiedler, wants to keep up with the Steins, who had a "Titanic" movie theme for their son's coming of age celebration and who spent thousands of dollars. The plot in which the boy, named Benjamin, attempts to bring resolution to the strained relationship between his father and grandfather is both realistic and dramatic. Unfortunately, it is the bar and not the Bar Mitzvah that prevents us from awarding this film our Dove Seal. Benjamin and his two friends get into some alcohol while Benjamin's parents are away, and they all get bombed with Ben throwing up as a result. His grandfather covers this up and says that it is good to try it at least once. Also, there is more drinking scattered throughout the film. There is also rear nudity as Grandpa Irwin, played by Garry Marshall, goes skinny dipping and we see him from behind at least three times in the film. This film does educate one to a certain point about Jewish celebrations but unfortunately the content area prevents Dove from approving this one.
Info
Company:
Miramax Pictures
Reviewer:
Edwin L. Carpenter