Cars
Theatrical Release:
June 9, 2006
DVD Release:
November 7, 2006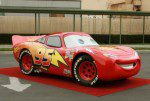 Synopsis
Lightning McQueen (voiced by Wilson), a hotshot rookie race car driven to succeed, discovers that life is about the journey, not the finish line, when he finds himself unexpectedly detoured in the sleepy Route 66 town of Radiator Springs. On route across the country to the big Piston Cup Championship in California to compete against two seasoned pros, McQueen gets to know the town's offbeat characters –including Sally (a snazzy 2002 Porsche voiced by Hunt), Doc Hudson (a 1951 Hudson Hornet with a mysterious past, voiced by Newman), and Mater (a rusty but trusty tow truck voiced by Larry the Cable Guy) – who help him realize that there are more important things than trophies, fame and sponsorship. The all-star vocal cast also includes free-wheeling performances by racing legend Richard Petty. Fueled with plenty of humor, action, heartfelt drama, and amazing new technical feats, "Cars" is a high octane delight for moviegoers of all ages.
Dove Review
This movie was enjoyable to watch. It had a pretty good story for a film that had a plot about animated racing cars. Director John Lasseter also directed the "Toy Story" movies and he always does a quality job. The story is about Lightning McQueen and how at first he only cares about himself and winning. When he gets into trouble for going too fast in a small, out-of-the-way town called Radiator Springs, the other cars and trucks he meets begin to have a positive effect on him.
The story is humorous with such signs lining the road as "Pothole City," and there are two "pit stops," one for the women and one for the men. It does have the word "H*ll in it twice, referring to "Hillbilly H*ll," which is what McQueen initially thinks of the small town he lands in. There is also a "Holy Shoot," and "Holy Porsche," as well as some flatulence by some of the vehicles. There were kids of all ages (along with the adults) at the screening I attended, and they roared with laughter at various parts and seemed to genuinely enjoy it. We award the film four Doves, as it is a creative and at times delightful story with something for just about everyone in the family. Thankfully, it rates well in the content area. Drive off soon to go see it.
A word of caution to parents: There is a scene in which the "Cars" star Lightning McQueen tries to beat a train to the railroad crossing. Lights are flashing and the scene is tense with McQueen getting over the crossing just in time. With many people getting killed and injured at railroad crossings every year, Dove and others believe that this scene in the film is ill advised. In fact, it could potentially be a disaster for young people who view it and then feel it is cool to imitate the scene. We need to teach youngsters to "Stop, look, listen and live."
Info
Writer:
Robert L. Baird and Dan Fogelman
Reviewer:
Edwin L. Carpenter