Wisconsin Barns: Touchstones to the Past
DVD Release:
June 13, 2006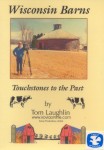 Synopsis
This warm, family-friendly program takes us out into the Wisconsin countryside to look at some of the old, classic, traditional barns that so many people love for so many different reasons. No longer efficient in today's farming world and expensive to upkeep, too many of them are simply falling down and fading away forever. Others, however, find a way for them to remain in use or otherwise reapply themselves in a variety of ways that extend their lives at least for the near future.
Enjoy this look at some relics from our early days in America and try to imagine what it must have been like before all of our modern conveniences. It profiles a number of barns around Wisconsin and visits with historians, academics, farmers, a family rehabbing their barn and more. The show even stops in at an annual Wisconsin county dairy breakfast.
With stunning visuals, beautiful music and much information for those with a barn project at hand, this show is a warm, family-friendly program that pleases on many levels. You may notice it airing on public television stations in Iowa, Twin Cities/Minnesota and Chicago. This program is a "must-have" for any barn enthusiast and is a great, truly unique gift idea!
Dove Review
I grew up in the midwest – Michigan mostly, but I lived in Wisconsin for about thirteen years. This documentary of barns in Wisconsin is very enjoyable. The scenery, the people and a little history is included in this DVD. Stories from family farmers regarding the changes in their lifestyle and in barns will be interesting for all that have a curiosity for the past.
Info
Company:
Kovia Productions
Industry Rating:
Not Rated