Water
Theatrical Release:
April 28, 2006
DVD Release:
June 6, 2006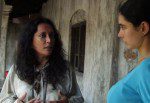 Synopsis
In 1938 Colonial India, against the backdrop of Mahatma Gandhi's rise to power, eight-year-old Chuyia (Sarala) finds out her husband has died and is taken by her father to an ashram, a home where Hindu widows live out their lives in penitence. Chuyia's feisty presence starts to affect the lives of the other residents, including Kalyani (Lisa Ray), the ashram's "breadwinner," who is barely in her twenties. Kalyani breaks tradition and falls for a young upper-class Gandhian idealist (John Abraham), forcing all the women to question both their faith and future. Even Chuyia is caught in the wind of change.
Dove Review
This is a gripping and fascinating story, intended for the twelve-and-above age group. The story is well written as well as acted and it reveals the hardships of widows in India in 1938. The plot centers around Chuyia, an eight-year-old girl who is left a widow following the loss of her much older husband. Taken to the ashram, or poverty-stricken widow's home, she bristles against the strict rules and her new life.
Since this is a Hindu story, there are elements in their religious lifestyle that we do not agree with, and it is noted below in our content area. There are also a few strong words which are noted below. However, this story reveals in a razor-sharp way the results of living as the widows do, and some hope is given at the end for young Chuyia, although I don't wish to give the ending away. It should be noted here that the movie has subtitles as the native tongue is spoken in this film. Since this story does represent true history and a specific culture, we recommend it for ages twelve and above with the cautions already listed, and we ask that our readers consult the content area below.
Info
Company:
20th Century Fox Home Ent.
Reviewer:
Edwin L. Carpenter