The Devil Wears Prada
Theatrical Release:
June 30, 2006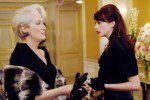 Synopsis
Based on the best-selling novel, THE DEVIL WEARS PRADA stars two-time Academy Award® winner Meryl Streep as high-powered fashion magazine editor Miranda Priestly. Anne Hathaway also stars, as Miranda's new assistant, a small-town girl in her first job out of college, trying to navigate a world she's only glimpsed in print – while surviving her impossibly demanding new boss.
Dove Review
Anne Hathaway is to die for. She does a wonderful job in the role and is a joy to watch on screen. Meryl Streep plays an all-business executive who has everyone running around frightened of her. In many cases she doesn't even call her employees by their correct names. Streep portrays Miranda Priestly brilliantly. The job demands much of Andy Sachs (Anne Hathaway) and she rises to the occasion which in the end may cost her the boyfriend whom she loves and her friends and family. The film raises the good point of how far people will go to please their boss and at what cost? Is it worth climbing the corporate ladder if you have to walk all over people to do it? Andy faces these tough questions as she tries to stay true to herself.
It's too bad that the film contains strongly implied sexual relationships and some foul language. Those are the two areas that prevent Dove from awarding the Dove Seal to "The Devil Wears Prada."
Info
Company:
20th Century Fox