The Money Mammals: Saving Money is Fun
Theatrical Release:
July 1, 2006
DVD Release:
July 1, 2006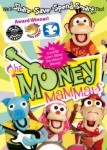 Synopsis
In their song-filled debut show, Joe the Monkey and friends learn to "Share and Save and Spend Smart, Too." Clara J. Camel's birthday is coming up and Joe and his friend, Piggs the Bank, NEED to buy her a present. But they also WANT to buy the new Coconut Hero Card. Come join the fun as Joe and Piggs learn that saving money for a friend can be more fun than buying something for themselves.
Special features: "Just for Parents," which is practical advice for parents; "Kids and Money"- kids talk about money; and a "Behind the Scenes" slide show and "Sing with Us" video jukebox.
Dove Review
The Money Mammals are cute adorable puppets that help educate your children, two to six years of age, about money. It is never too early to encourage children about the concept of how to save. This lovely DVD will help you in that endeavor with the use of colorful puppet characters and fantastic music your children will enjoy while they learn. This DVD is both educational and entertaining for your youngsters.
Info
Company:
Snigglezoo Entertainment
Industry Rating:
Not Rated