Pirates of the Caribbean: Dead Mans Chest
Theatrical Release:
July 7, 2006
DVD Release:
December 5, 2006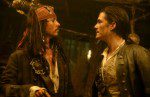 Synopsis
This time around, Johnny returns as Captain Jack Sparrow and is caught in yet another tangled web of supernatural intrigue. It turns out, Captain Jack owes a blood debt to the legendary Davey Jones, ruler of the ocean depths and captain of the ghostly Flying Dutchman. If Jack can't figure a crafty way out of this one, he'll be cursed to an afterlife of eternal servitude and damnation. And as if that weren't enough, Captain Jack's problems throw a huge wrench into the wedding plans of the blissful Will Turner and Elizabeth Swann, who quickly find themselves thrust into Jack's misadventures.
Dove Review
Johnny Depp does a wonderful job portraying Captain Jack Sparrow. He is very funny in several scenes and Depp fans will not be disappointed. While a bit more violent than "Curse of the Black Pearl", "Dead Man's Chest" is still not overly graphic. Just like in the first film, most of the violence is between the dead pirates that come to life and the real human pirates. These scenes are numerous throughout the film and would scare younger children. While I was entertained much more in this film than the first, Dove cannot approve "Dead Man's Chest" because of the curse that Davey Jones says to Captain Jack Sparrow. It is unfortunate that Disney allowed the curse to be put in the film since there is only one other objectionable word in the entire movie.
Content Description
Integrity:
Strong theme of overcoming a fear/anxiety to save those one cares for; strong female protagonist
Violence:
Many fight scenes between living pirates and the come to life skeletons. Man shoots crow; man caught in snare and shot with tranquilizer dart; Man killed with knife; men's throats slit; man gets whipped; giant octopus attacks pirates. Man wears necklace made from human toes. Birds peck at eyes of dead bodies. beating heart outside of body shown (no blood).
Info
Writer:
Ted Elliott and Terry Rossio