Jackie Robinson Story (in color)
Theatrical Release:
June 15, 1991
DVD Release:
August 20, 2013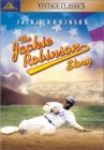 Synopsis
Jackie Robinson stars as himself in this inspirational classic. The movie chronicles his life from youth through his college career at UCLA, to his rise to a legend with the Brooklyn Dodgers. Jackie triumphs over racial injustices and emerges as nothing less than one of America's true heroes. Presented in color for the first time and beautifully restored, this is the definitive edition of "The Jackie Robinson Story." It is released in conjunction with The Jackie Robinson Foundation.
Dove Review
"The Jackie Robinson Story" tells of one man's endurance as he works toward his dreams. As most know, Jackie Robinson was the athlete who changed baseball history, because he became the first African American major league baseball player in the U.S. This film tells of his journey to the big league and the courage Jackie had as he proved himself to be worthy of being a Dodger.
This story is set during the time when this country was still very divided between black and white, regarding jobs, restaurants and even athletic teams. Here is a film that every baseball fan will want to see, especially if they are interested in the history of the game. It is entertaining and a wonderful tribute to a great man, Jackie Robinson, who encourages everyone to follow their dream no matter what. "The Jackie Robinson Story" is a classic historical film that proved that anyone should have the freedom and right to participate in events. We award this movie with the Dove Family Approved Seal for 12-plus.
Content Description
Violence:
Bullying a man due to his race, many instances of racial discrimination; throwing things at a batter on the field
Violence:
Bullying a man due to his race, many instances of racial discrimination; throwing things at a batter on the field