You, Me and Dupree
Theatrical Release:
July 14, 2006
DVD Release:
November 21, 2006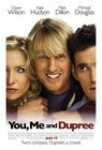 Synopsis
This comedy tells the story of a newlywed couple (Hudson, Dillon) whose relationship problems boil over when the groom's unemployed best man, Dupree (Wilson), moves in with them for a brief period and seems to have no intention of leaving.
Dove Review
This movie is laugh-out-loud funny during the course of its hour-and-fifty-minute length. Dupree totally upsets the household of newlyweds Carl and Molly Peterson. He is a likable nut who is Carl's best friend, and even wears a "BM" sign on his shirt during Carl and Molly's wedding, which stands for "Best Man," not another thing that might have crossed your mind. He loses his job and moves in with the newlyweds, and makes mistakes such as picking the wrong time to burst into their bedroom, and he invites "the guys" over for a football game just before Molly arrives home. In one role-switching scene, he is waiting along with Molly for Carl to arrive home from work and when Carl finally arrives late, Dupree yells, "Couldn't you at least pick up a phone and call?!"
It's a shame that the language was strong and fairly frequent and that a rear nude scene is shown of Dupree sleeping on his stomach on the couch without covers. The strong content prevents us from approving this film as family friendly, with such scenes as Dupree masturbating, although it's not graphically shown. And there's also the scene of a character flipping someone off. This movie could have passed for twelve and above had the content area not gone wild.
Content Description
Sex:
Dupree has sex with his unmarried girlfriend. He is told later she has slept with the entire faculty at a particular school. The words "slut" and "homo" are used. The word "humping" is used. And porn video covers are seen and mentioned and one character tries to pilfer some from a friend's garbage can.
Info
Company:
Universal Pictures
Director:
Anthony Russo and Joe Russo
Reviewer:
Edwin L. Carpenter