Boz: Thank You God for Bananas, Bubbles and Busy Bodies
Theatrical Release:
August 26, 2006
DVD Release:
August 26, 2006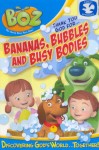 Synopsis
Boz, The Green Bear Next Door™, loves exploring God's world with his friends, Drew and Gracie. Boz entertains, educates, and inspires preschoolers with DVDs filled with great stories and wonderful songs.
Laugh, love and learn with Boz. As they explore God's world, Boz, Drew and Gracie help discover the joys of being active, eating healthy and getting clean. Plus there are 11 great songs and special features.
A Busy Body Day! God helps us grow strong as we play with our friends and see all the fun things to do in Boz's Busy Body Box.
Double Peppy Pizza! When we're hungry for a tasty treat, God's colorful fruits and vegetables are great to eat!
Scrubbly Bubbly Clean! Washing away dirt and germs keeps us squeaky clean…and it helps our bodies stay healthy!
Dove Review
Here is another fantastic show of "Boz The Green Bear Next Door." These shows are delightfully entertaining for your youngsters. This cute lovable big green bear will take children on an adventure in this DVD about exercise, vegetables, and baths. Little ones will enjoy the animation and fantastic songs in this video. Boz will teach them how being active makes their body strong; how colorful fruits and vegetables are great tasting; how keeping clean helps them to be healthy; and that these are all part of God's love for us.
Every video is filled with great music, fantastic fun and delightful songs. Join Boz, Drew and Gracie as they sing, play and pray. My grandchildren love to take Boz videos with them when they take a trip in the family automobile.
Info
Company:
Exclaim Entertainment
Industry Rating:
Not Rated