Clerks ll
Theatrical Release:
July 21, 2006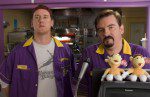 Synopsis
Ten years ago best friends Dante Hicks (BRIAN O'HALLORAN) and Randal Graves (JEFF ANDERSON) were New Jersey mini-mall clerks still slacking off together in their early 20s. Now, Kevin Smith checks back in to see what kind of changes have rocked their lives — in work, romance and their eternally raucous life philosophy.
What he discovers is that never before have so many still done so little while having so much fun doing it. Now working in the fast-food universe, Dante and Randal have managed to maintain, and even hone, their in-your-face attitudes, agile skill with vulgarities and unbridled love of screwing with the customers. But they're also faced with such shocking new prospects as marriage, leaving Jersey and finding real careers.
Dove Review
"Clerks 2" contains the worst examples of everything Dove opposes in films. In fact, this movie may contain some of the most obnoxious and offensive behavior ever seen on film, and absolutely nothing in this film can be approved by Dove. Virtually the entire movie consists of "comedic" sexual references, which do nothing but degrade and make sick light of anything sexual. The movie also makes fun of the handicapped, Christians, and Christianity; also, it includes scenes of people selling and using drugs, bestiality, and even an insensitive bit on racism and racial slurs, during which numerous racial slurs are used. Perhaps the most disturbing thing about the film is that all but one of the characters seem to have a completely negative, even disturbed view of the world and of humanity. The film basically makes a joke out of people not caring about the feelings of others, going beyond disrespect and constantly crossing the line into malice.