Barnyard
Theatrical Release:
August 4, 2006
DVD Release:
December 12, 2006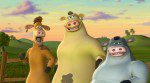 Synopsis
Otis (Kevin James), a carefree party cow, enjoys singing, dancing and playing tricks on humans. Unlike his father Ben (Sam Elliott), the respected patriarch of the farm, and Miles, the wise old mule (Danny Glover), Otis is unconcerned about keeping the animals' human-like talents a secret. But when suddenly put in the position of responsibility, the 'udderly' irresponsible cow finds the courage to be a leader.
Dove Review
The Dove Foundation recently hosted a special screening of "Barnyard," and the response was very positive. "It was pretty good," said a lady named Laura who had brought her three-year-old daughter and seven-year-old son to the screening. In fact, there is a lot to like in this film. "The music was good," added Laura. "And it was not super violent." Another mother, named Julie, said, "My kids loved it!" She, along with others who were polled, asked that Dove mention two scenes: the fact that the son (Otis), a male cow with udders, is not obedient to his father Ben in the beginning of the film, and in fact takes a joy ride in a stolen car while drinking "milk," the equivalent of alcohol for teenagers. But the car is later returned and Otis does grow up by the film's end. Also, the coyotes which prey on the other animals could potentially scare the very young. A man named Marty said, "The coyotes were scary but the movie was funny!" He pointed out the cows were androgynous too.
The movie was a delight with a lot of humor, and laughter rang throughout the nearly-packed auditorium. The film is obviously the stuff of which fantasies are made. It should be noted that Otis' father, Ben, is killed by the coyotes, yet not in an overly graphic way. There are definitely funny moments, such as when a barn party takes place and some chickens throw darts at a picture of Col. Sanders of Kentucky Fried Chicken fame!
We recommend this film for all ages, with the note that it might be too intense for the very young. Most kids, watching Otis and Ben and the funny mule voiced by Danny Glover, are going to love it.
Info
Reviewer:
Edwin L. Carpenter