Early Start Mandarin Chinese with Bao Bei Volume 2
DVD Release:
July 1, 2006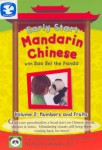 Synopsis
This DVD series introduces simple words, phrases and tonal sounds of Mandarin Chinese to preschool age children. Bao Bei, the lovable panda puppet, and Chu Chu the cricket teach Mandarin Chinese in a fun and entertaining manner that encourages learning. The DVDs are designed around colorful and familiar things that children enjoy.
Leaning Mandarin Chinese has gained popularity in recent years. Chinese has an enormous influence in today's economics, politics, and science. Besides being the planet's most widely-spoken language, Mandarin Chinese is the second-most spoken language on the Internet.
Volume two teaches preschoolers numbers and fruit.
Dove Review
In today's world it is important to be able to communicate in more than one language. Chinese has become one of the top languages. Bao Bei will teach you as well as your young children phrases, numbers and fruit. This colorful entertaining educational tool will help you expand your child's language skills.
This video is filled with wonderful animation, puppets and real children, making it a fantastic learning experience.
Info
Company:
Ni Hoa Productions, LLC
Industry Rating:
Not Rated
Starring:
Bao Bei the Panda, Chu Chu the Cricket