Miami Vice
Theatrical Release:
July 28, 2006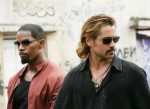 Synopsis
The cocaine cowboys of the 80's are gone, but Miami's Casablanca allure, the undercover cops and the attitudes of Michael Mann's culturally influential television series have been enhanced by time in the feature film version of Miami Vice. The roles he helped create of Sonny Crockett and Ricardo Tubbs are inhabited by COLIN FARRELL (ALEXANDER, THE NEW WORLD) and Academy Award© winner JAMIE FOXX (RAY, COLLATERAL), who both underwent extensive training and simulations by undercover officers from the DEA, ATF and ICE – people who tread the dangerous world of international trafficking.
MIAMI VICE begins as Crockett and Tubbs learn that a high-level leak has led to the slaughter of undercover federal agents and the murder of an informant friend's family. Pulled into the case, the two detectives' investigation takes them straight to the doorstep of vicious killers from the Aryan Brotherhood and a sophisticated network of globalized traffickers protected by world-class security.
Urbane and dead smart, Tubbs lives with Bronx-born intel analyst Trudy, played by British actress Naomie Harris (28 Days Later, Pirates of the Caribbean II and III), as their team works to infiltrate the group responsible for the deaths. Crockett is charismatic and flirtatious, until he encounters the beautiful financial criminal Isabella, played by premiere Chinese actress Gong Li (Raise the Red Lantern, Memoirs of a Geisha).
Dove Review
Michael Mann tries to take us back to a couple of characters many watched in the 80's. Unfortunately, he is a better TV director than a movie director and it shows. Grainy film footage stitched in with many scenes shot with hand held cameras make for a jittery ride. The film is long with little guessable story; your typical cookie cutter two part special.
Unlike the endear-able Crockett and Tubbs of the past, we are exposed to a macho duo who are too easily swayed by their circumstances. Mann did succeed however in exploiting his new theatrical venue by including an indulgent amount of sex, violence and language which is common in today's typical R-rated fare. All in all, nothing new for anyone to see in this movie.
Take my advice and go out and rent or buy the Miami Vice TV series. Both season one and two are available on DVD.
Info
Company:
Universal Pictures