The Night Listener
Theatrical Release:
August 4, 2006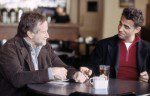 Synopsis
The Night Listener tackles the narrative of Armistead Maupin's most haunting page-turner, in which popular public radio storyteller Gabriel Noone (Robin Williams) develops an intense phone relationship with a young listener named Pete (Rory Culkin) and the social worker who rescued him from a life of abuse (Toni Collette). But Gabriel soon comes to the startling realization that it is quite possible that neither the boy nor his painful account of his childhood really exist.
Dove Review
I never thought that I would use the words "Robin Williams" and "worst movie" in the same sentence, but here goes. "The Night Listener" starring Robin Williams is the worst movie I have seen in a very long time. I normally am a big Robin Williams fan. I find him very funny and talented. However, this film was so slow moving, boring and all around bad, it is impossible to enjoy anything about it.
Combined with the foul language, "The Night Listener" conveys the homosexual lifestyle in a positive light. Other disturbing images are scenes about pedophilia and how Peter was abused by his mother and father. Families will want to listen to this advice and stay away from this perverted and extremely boring tale. I'm sure in their infinite wisdom the powers in Hollywood will nominate this horrible film for some kind of Academy Award. What a waste of 82 minutes!
Info
Company:
Miramax Pictures