Invincible
Theatrical Release:
August 24, 2006
DVD Release:
December 19, 2006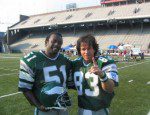 Synopsis
Inspired by the true story of Vince Papale (Mark Wahlberg), a man with nothing to lose who ignored the staggering odds and made his dream come true. When the coach (Greg Kinnear) of Papale's beloved hometown football team hosted an unprecedented open tryout, the public consensus was that it was a waste of time — no one good enough to play professional football was going to be found this way. Certainly no one like Papale — a down-on-his-luck, 30 year-old substitute teacher and part-time bartender who never even played college football. But against these odds, Papale made the team and soon found himself living every fan's fantasy — moving from his cheap seats in the upper deck to standing on the field as a professional football player.
Dove Review
This inspirational film based on the real life story of Vince Papale is one of the best films I have seen in awhile. Mark Wahlberg nails the part as the underdog teacher and part-time bartender, who would be a football player for the Philadelphia Eagles. This story, partly because it is based in Philadelphia, felt very much like the first "Rocky" film. The director makes use of the south side of Philly, and its alleys and small bars. I almost expected Rocky himself to pop up around a corner going, "Yo, Vince!" But this is meant as a compliment. The rundown, in-need-of-repair apartment Vince lives in gives the film a feeling of realism.
Vince's wife, tired of the slim pickings, leaves him and he uses a note she wrote him to keep the fighter alive in himself. The note reads, "You'll never go anywhere, you'll never make any money, and you'll never make a name for yourself." Thanks to Coach Dick Vermeil, who believes in Papale, who makes the team via a rare try-out camp, Papale sets out to prove his ex-wife wrong. This is one best suited for ages twelve and up, due to its more adult subject matter of struggling to make ends meet. The bar scenes are fairly tame. The film contains just mild language, and It appears that the film was edited to possibly remove other profanities; if this is the case, we applaud the film-makers for doing this so it can be more of a family film. We award this film five Doves – it is well worth seeing.
Info
Reviewer:
Edwin L. Carpenter