A Romance Wedding
Theatrical Release:
June 28, 2021
DVD Release:
June 28, 2021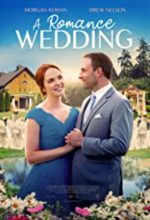 Synopsis
Zoe Davis is a successful and highly driven wedding planner in the big city. When her father asks her for help at the family café shop, she happily drives back to her cozy hometown of Romance, Oregon. Little does she know her mom has already hired Will to help, an aspiring chef — and, coincidentally, Zoe's childhood sweetheart! Tensions rise between Zoe and Will, but so does the chemistry. Will they settle their differences and find lost love along the way?
Dove Review
A lovely romantic movie that takes place in fictional Romance, Oregon but shot in and around Kelowna, BC, Canada. Zoe (Morgan Kohan) and Will (Drew Nelson) are excellent in their roles and the characters are all well-cast.  High production value throughout. Great music, country farm visuals are calming and charming.
Zoe needs a break from her hectic but successful Portland wedding service, Belle Weddings, catering to no end of demanding bridezillas.  She and her business partner, Nick Ventri (Carey Feehan) just want to create memorable weddings for loving couples in a beautiful setting.  Zoe heads for her hometown of Romance, Oregon to recharge.  Her mom and dad run a small café but now with her dad indisposed with a broken leg, Zoe quickly must take up the slack, but not before she runs into the most recently hired help….Will Mason, an old boyfriend whose heart she broke years ago. 
They are cordial to each other in what was supposed to be a temporary situation, but when Zoe decides to move back to Romance and expand Belle Weddings by buying and turning the old Mason farm into a beautiful wedding venue, things take a sideways spiral.  Will, whose dream is to have his own restaurant and buy local product, is not happy about  farmland being used for commercial purposes even though his family farm has been on the market for over a year.  He is supported by many local citizens who don't want to see an outsider, Zoe, coming in and making drastic changes.
As Zoe strives to achieve her business dream, she is met with an uphill battle, but as the tension increases, so do her feelings for Will that just add to the confusion.  Can Zoe make it all come true and help everyone concerned in the process?  And how does Will feel about Zoe after all these years while still harboring a trust issue?
This is a light entertaining movie for the whole family and Dove-approved for All Ages.
The Dove Take
A celebration of small community supporting each other to everyone's benefit, with a sweet romance emerging as an unexpected bonus.  
Info
Company:
Reel One Entertainment, CMW Productions