Accepted
Theatrical Release:
August 18, 2006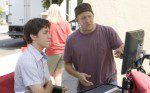 Synopsis
High school senior Bartleby is on his way to scoring 8 out of 8 rejection letters from colleges, which isn't going to go over big with Mom and Dad. At least he's not alone in the exclusion. Several of his crew of outcast friends are in the same, college-less boat. So…how does a guy facing a bleak career please his parents and get noticed by dream girl Monica?
Dove Review
When a group of friends who don't get accepted into any colleges invent their own school, with a not-so-clever acronym (South Harmon Institute of Technology), all the stereotypes of what college students would rather be doing besides studying are reinforced once again.
"Accepted" tries to be a movie about nice guys finishing first, and tries to have a positive message along the lines that creativity has value, and people can indeed succeed by taking a unique, innovative approach to life. Unfortunately, in "Accepted" these messages are presented along with lots of underage drinking, foul language, sexual references, and numerous examples of things parents hope their college freshmen do not do. Any positive message the movie tries to present gets lost due to the fact that there are no negative consequences for the poor judgments made by the main characters time and again.
Content Description
Sex:
Numerous sexual references throughout film. Young couple kiss; woman walks in on her boyfriend kissing and undressing another woman. Suggestive dancing. References to masturbation.
Nudity:
Numerous cleavage shots throughout film. Woman suggestively strips down to her bikini. Woman in underclothes. Men and women in bathing suits throughout. Statue with large phallus.
Info
Company:
Universal Pictures
Writer:
Adam Cooper and Bill Collage