Miracles in our Midst
Theatrical Release:
October 17, 2006
DVD Release:
October 17, 2006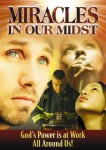 Synopsis
Are miracles a thing of the past? Or does the hand of God intervene in our lives even today? In a world filled with news of violence and tragedy, it's sometimes difficult to accept even the possibility of supernatural help. But we find there are untold stories of miracles to be found in the most unlikely of places.
This amazing DVD examines true stories of survival that defy explanation and heroic deeds that move one to tears. It also asks questions to which every Christian should know the answers: Does the Bible tell us what a miracle is? Do miracles still happen today or did they cease with the death of Christ's Apostles? And what significance, if any, should they hold for Christians?
This DVD will change the way you look at the world around you, and fill your heart with the hope that can only come from God's amazing hand.
Dove Review
This documentary will make the viewer think about miracles that might be happening around us in the worst of times. It takes the viewer into the lives of those who by the miracles and the grace of God survived the awful day of September 11, 2001. Many questions will come to mind of Christians about these miracles and heroes. But by watching this documentary you will become more informed about the people that survived that terrible day. Due to the mature theme of this documentary, Dove recommends it for ages twelve and up.
Info
Company:
Grizzly Adams Prod., Inc.
Starring:
Hosted by Janet Parshell