Before Your Time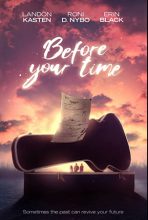 Synopsis
After the loss of their mother, 17-year-old Dylan, his two sisters, and father are forced to move back to the small town where their parents met and grew up. While getting back on their feet, the family stays with their eccentric Aunt Norah and tries to adjust to a new life. They meet a quirky neighborhood kid, Pete, who convinces them to embark on a "bucket-list" type adventure inspired by a list found in their Dad's high school storage boxes. The task is not as easy as it seems and ultimately teaches everyone about managing grief, moving forward, and the importance of family.
Dove Review
Teenage Dylan and his two younger sisters leave California to live with their aunt for the summer. Since their mom's death, their dad has not only struggled financially, but emotionally too. The family is quietly, slowly crumbling, but perhaps new scenery, new friends, and new surprises will restore their hope.
After cleaning out his aunt's garage, Dylan discovers his mom's old bucket list, a crinkled paper filled with wild, slightly rebellious tasks she wanted to complete before leaving her hometown and marrying their dad. Dylan believes this is his chance to reconnect with her, and with the help of his sisters and new local friends, they go on an adventure of excitement and forgiveness.
The main cast consists of teenagers who don't mind sneaking around the rules: trespassing, bullying, making crude references and using harsh language. In addition, parents should note Dylan's aunt is a consistent proponent of "free thinking" and spiritual "energy," which alludes to no Christian principles. Meanwhile, during one spooky scene, Dylan's friend takes him to an old, crumbled cross where he says people believe "satanic worship" took place.
While Before Your Time represents hope and healing, several scenes and themes aren't appropriate for young children, awarding this film Dove-approval for Ages 12+.
The Dove Take
Before Your Time tells the story of Dylan, his sisters, and their new friends as they spend the summer completing their deceased mom's wild, slightly rebellious bucket list.  
Content Description
Sex:
Several teenage girl/boy kisses, references to a girl being "hot," "hot babe." One character makes a silent, understood reference to d*** (crude name for male genitalia), One boy tells two girls, "Move those thighs."
Sex:
Several teenage girl/boy kisses, references to a girl being "hot," "hot babe." One character makes a silent, understood reference to d*** (crude name for male genitalia), One boy tells two girls, "Move those thighs."
Violence:
Confrontational teenage bullying, One character says, "Swear I'm going to punch you in the face."
Other:
Dylan's Aunt encourages yoga, "free thinking", and spiritual "energy". One character jokingly takes friends to an old, crumbled cross monument and says people believe others conducted satanic worship there. Dylan's oldest sister consistently rebels and has a sarcastic, poor attitude toward adults. A few characters trespass. Family tension, temper tantrums, a joking reference to being "suicidal", and another joke that "Immigrants don't smile."
Info
Writer:
Kayla Anderson
, Lucas McGraw (supporting writer), Justin L. Cook (supporting writer)