Christmas on 5th Avenue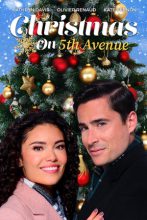 Synopsis
Hopeless romantic Eva Jordan loves everything about Christmas. She even owns her own Christmas concierge service in New York City, making the season special for all her eccentric clients. This year as she decorates a spectacular Manhattan Penthouse for Christmas, bubbly Eva brings moody writer Lucas Blade some joy for the holidays.
Dove Review
Based on the novel, "Miracle on 5th Avenue," written by Sarah Morgan,  this exquisite love story simmers throughout the entire movie, with elaborate Christmas scenes and familiar music.  The onscreen authentic chemistry between the beautiful and charming Kathryn Davis and the handsome refined Olivier Renaud, will hold your full attention.  As the story unfolds, you will wish the best for two people who truly belong together but must find a way to trust they can actually be together.  A good family choice for a Christmas movie night at home and Dove approved for all ages. 
Hopeless romantic Eva Jordan (Kathryn Davis) loves everything about Christmas and works as a Christmas concierge in New York City, making the season special for all her fun and eccentric clients. A request from a wealthy and favorite client, Mitzy Blade (Kate Vernon), mother of the world-famous crime author Lucas Blade (Olivier Renaud), gets Eva super excited.  Mitzy wants to make it a special Christmas for her overworked son and while he is writing his next book in a Vermont mountain retreat, hires Eva to stay in Lucas' very posh New York Upper East Side 5th Avenue penthouse suite and transform it into a Christmas wonderland for his return on Christmas Eve. 
Poor Lucas, with serious writer's block and no inspiration, listens as Jason, his publisher puts on the pressure for his next book. Fans are excited and it needs to be sensational. As Lucas stares at a blank computer screen, he reaches over and with one finger, types the word, HELP!!!!!
Eva arrives to check out the penthouse and take inventory of what she will need, when opening a door suddenly brings her face to face with no other than Lucas himself who is NOT in Vermont and who threatens to call police.  Quick-thinking Eva confronts Lucas with not telling his mother the truth…and he is caught!  With Eva's apartment sub-let, and a job to do for Mitzy, Lucas has no choice but allow her to stay or confess the truth to his mother.  And there is no question as to why Mitzy hired her…the cupboards are bare, the fridge empty, there is no "hominess" anywhere and certainly no Christmas spirit! Lucas is grumpy and warns Eva not to bother him during her stay.  He wants no interruptions, no joyful decorations, no sparkling tree, and he certainly doesn't appreciate being distracted by this beautiful, bubbly Christmas concierge.  But he can't disappoint his mom, so he gives in to Eva's Christmas spirit. 
As Eva's cheery personality and the magic she brings, begin to erode Lucas's reclusiveness, they are talking civilly and attempting to get along.  With Eva's optimistic ideas, and much to his delight, Lucas is starting to write again, and they are enjoying each other's company.  As Eva brings out the best in Lucas, she shares her deepest feelings with him, and the atmosphere immediately goes sideways…Eva is crushed. Lucas cannot bring himself to think he could make Eva happy and he allows her to walk out of his life.
Not every story has a happy ending…until Mom Mitzy hears the words, "Mom, I'm madly in love with her and I don't know if I can fix it"… and jokingly advises her son, "…there's an app for that!"  What happens next…well, it brings together all your own feelings as to how this movie should end.  Enjoy! 
The Dove Take
Love is a gift … cherish it, celebrate it, but most importantly, recognize it. It's the only thing that brings true happiness and contentment. 
Content Description
Integrity:
Eva tells the truth, is kind and lives a generous life giving of herself to make others happy and changes Lucas' loneliness; Mitzy is caring, honest, and very supportive of her son.
Drugs:
Wine with friends; champagne at the Christmas Ball; no abuse of alcohol or inappropriate behavior.
Info
Company:
Brain Power Studio Inc.
Industry Rating:
Not Rated